You may wish to upload an image to your post.
To do this, select "New Topic" in the desired forum or "Add Reply" if you are replying to someone else's post.
Above the text box in which you can write your post there are a number of images that represent options you can use within your post. By hovering your mouse over these images a short description will appear describing the option.
Choose the image that appears to show a picture and a floppy disk, the description is "Host an Image" (see picture below)

This will open up a dialog box which asks you to browse for the file on your computer. Alternatively you can insert a web address with the URL option and this will insert an image hosted elsewhere on the internet.
Select "Browse" and locate the picture on your computer. Once you have selected the picture file you want, you are given the option to "Resize" the files with a number of option in a drop down menu. If you do not wish to resize your image select "No" in this drop down menu.
Now select "Host It" in the dialog box.
You will now have three pieces of code under "Thumbnail:", "Image:" and "URL:" headings. (see picture below)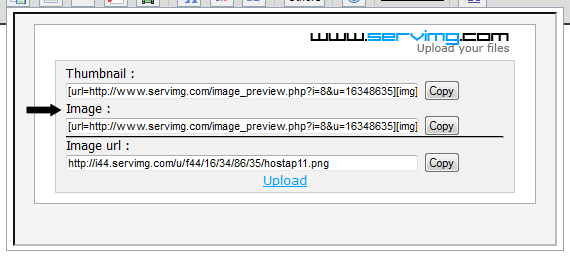 You will want the piece of code in the "Image:" labelled box. Select that code and copy it by using the right mouse button and selecting copy.
Now paste this code in your forum post and the image should appear when you select "Preview" or ultimately "Send" your post. To host another image select "Upload" in the last dialog box (pictured above) once you have copied and pasted the "Image:" code.
You can get rid of the host image dialog box by selecting again the "Host an Image" button at the top, highlighted in the first picture.
Hope this helps, if any problems please private message me.
I recommend you always preview a post before sending, especially if it contains images.